At Falcone Family Chiopractic & Wellness of Staten Island, you will receive a Comprehensive Evaluation to target the exact problem in your spine (Note: Most pain management will give an epidural injection without x-ray!!). Once, a definitive diagnosis has been established, Dr. Falcone performs a specific and GENTLE disc adjustment to alleviate pain and leg symptoms by taking disc matierial off the nerve, NONSURGICALLY.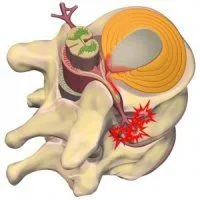 FACTS:
Surprisingly, a disc may show signs of wear and tear as early as age 15.
Disc degeneration may damage spinal nerves and contribute to conditions in the pelvic area. Among these are endometriosis, infections, (bladder, vaginal, kidney), urinary retention, prostate problems, miscarriage, sterility, sexual impotence, cystitis, menstrual cramps, and constipation. It is not uncommon for an individual who has a chronic back problem to suffer from one or more of the above problems as well.
Chiropractic spinal care may help prevent your spine from deterioration and your discs from herniation.
Can chiropractic help even if you have already had surgery? YES!! Chiropractors can often help relieve the pain and frustration of failed back surgery and may help prevent future operations. Please, before your spine gets worse, have a chiropractic spinal check up.

Failed Back Surgery Syndrome (also called FBSS, or failed back syndrome) can occur in 10-40% of people who undergo back surgery. Dr. Johnson is board certified in anesthesia and pain medicine and director of the Center for Pain Medicine of North Carolina, which is affiliated with East Carolina University School of Medicine in Greenville, North Carolina states, "there are too many surgeries being done. He said that in some cases doctors fail to appropriately apply conservative measures, such as chiropractic and physical therapy."